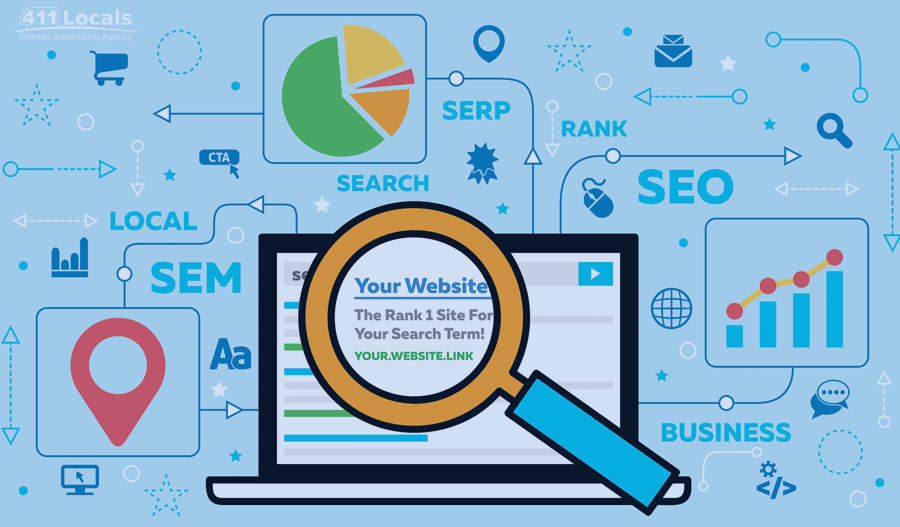 If you are into SEO and SEM, you have probably noticed the fact that although Google is constantly changing algorithms, your website is not always affected. A lot of business owners pay less and less attention to this unless they notice a major bounce rate changes. This is why we, at 411 Locals, brought this article to you, as we will go through all the major SEO ranking factors in 2017. Panelists at SMX East recently discussed that and we will summarize everything that you need to know. The text below includes data – from large-scale studies performed by SEMrush – one of the world's leading competitive research service for online marketing.
SEMrush Ranking Factors 2.0
Olga Andrienko from SEMrush shared large-scale study results on ranking factors, examining the top 100 positions for 600 000 keywords. The keywords were grouped into 4 categories by search volume. The lowest category is 1 to 100 monthly searches and the highest is more than 10 000.
Compiling a detailed look-up at on-page factors, referring domains, and traffic data showed that the following factors appear to be most important:
Website Security – HTTPS
The research showed that 65% of the domains in the top three positions for very high volume keywords are already secure. Switching to HTTPS might just help with conversations and building trust, so have that in mind.
Content Length
SEMrush' study proved that content length has a positive correlation with search rankings. The top 3 positions' are held by pages with 45% longer content than the average. However, Andrienko, as well as 411 Locals team, do not recommend writing tons of content, hoping for better ranking. The best thing you can do is research your competitors' content and see what content you can provide that adds more value for users.
Keywords
The following information really intrigued us. Seems like keywords in titles and anchor texts are not that important anymore. SEMrush found that 35% of the highly ranked domains do not contain keywords in the title. Not only that, but only 8% of the pages ranked as a very high volume had link anchors with a keyword included. We do not suggest to stop using these practices, but if you cannot find a convenient way to include a keyword in both title and anchor, just leave it.
Website Traffic
According to the SEMrush study, search traffic specifically did not appear to have any impact on rankings; however, direct traffic does.
User Signals
Andrienko shared that Google does not take user signals directly into account and even if it does, it will be low. In other words, users are not engaging with your site as they should be. The research showed that bounce rate is low for the top three positions and gets higher on the lowest position.
Links
As you have probably guessed, link building is still important. Backlinks really matter, especially if you are targeting keywords with fewer than 10 000 monthly searches.
So Which of These Factors is the Most Important One?
Well, it really depends on your industry, user audience, and goals. Because of everything said above, SEMrush found that users signals and direct website traffic were the highest predictors of top rankings. Andrienko theorized that the top-ranking sites are all doing great on-page optimization, and just because it coincides with positive user signals does not mean that they are the key to the good placement and ranking.
411 Locals team hopes that this information was helpful and we will come back with a similar article based on Searchmetrics' research next week!