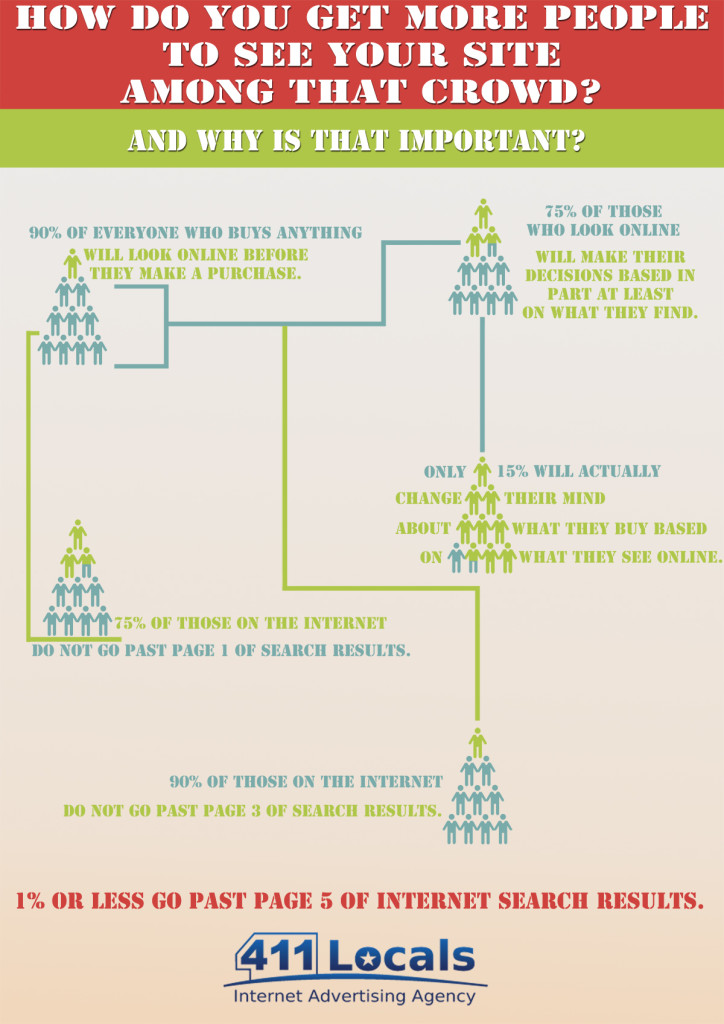 Small Business Guide To Big Business Optimization
There are 600 Million websites in the world.
You're 1 business.
How do your customers search?
More than 2 Billion people use the internet.
Every single one of them uses the internet differently.
But there are some words and phrases that people search for more than others.
There are some words that lead people to buy more than others.
And here is how a small business can bury a big business when it comes to SEO
1.    Use advanced analytics and hours of research to discover customer online patterns until you have a list of the words and terms real paying customers are using when they want to buy what you're selling. Hours of research and software not available from places like AdWords required.
2.    Create a professional optimized website from the ground up using the skills of expert designers, writers, and SEO people.
3.    Make that site mobile too, so you can catch you customer on the go.
4.    Create a presence on all of the popular social sites which also help your websites optimization, like Facebook, Twitter, and Google+.
5.    Now submit your business to over 100 directories based on performance in your area and in your industry—not based on general performance, you need specific information.
6.    Create a commercial for YouTube, but one you can use anywhere, and make sure that video is optimized for YouTube.com and for Google.
7.    Submit your business to Google Maps (which anyone can do), but then optimize it using some of the same tactics listed above, specific to how Google Maps works (which very few people can do well).
8.    Have organic and local SEO professionals working on your listings and optimization simultaneously.
9.    Finally, make sure that all of these professionals can dedicate several hours every single week tracking changes to Google's algorithms, changes in user search patterns, and what your competition is doing to ensure that you are always on that first page of Local Business Listings, and that your business is always improving its optimization in general.
Or…
Hire someone who has done this for 23,000 businesses already, has an A-Rating with the BBB, and is a Certified Google Partner because they use White Hat SEO and Google Best Practices in all of their optimization efforts.
We're 411 Locals.
Let us do all of that stuff for you.
We have packages starting at only $99/ month.
That's a lot cheaper than hiring you own team and you're going to get a lot more customers.
Call us today 866-530-1325.