When different social media platforms were being born and started rising, we saw that groundbreaking changes and even more hype was surrounding each of the newest big names on the web.
These are the tools that determined the next phase of our evolution as web users, and the reason behind that is the lightning speed at which they allow us to expand our audience. However, this creates another type of competition, a battleground where you have to adapt instantly if you want to compete with thousands of competing messages flying from side to side at any given moment.
Today's article is another one about copywriting, and more about smart content that experienced marketers use for advertising throughout social media. We will also cover the necessary limits we have to establish in order to save the time that is so easily wasted once we get immersed in online social networks.
To emphasize on the actual impact that social media has made on businesses lately, check out the numbers conducted from a research made by MarketingTechBlog: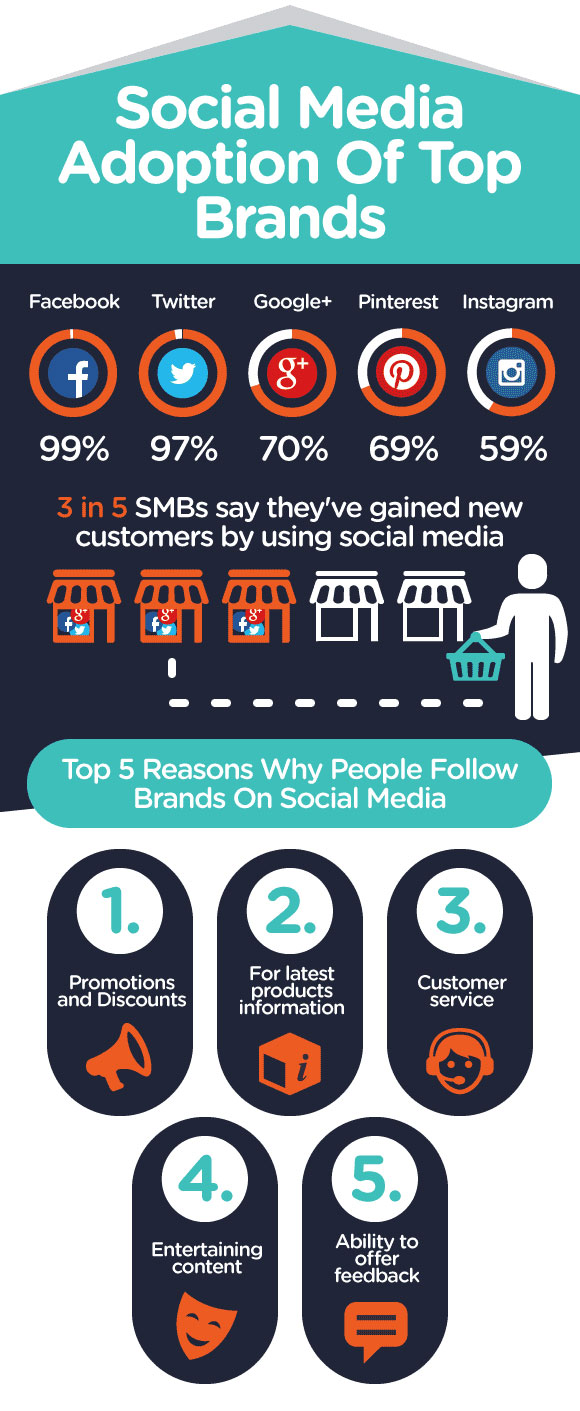 1. Sharing
Have you ever thought why some people appear more knowledgeable and intelligent on social platforms? The reason is quite obvious and simple – they share a lot of great content. Which leads us to the thought that if we want our creativity to be admired, appreciated and shared by more respected figures on the web, we want to make sure that we can deliver quality content.
Since we've already talked about what makes for good writing, we will just cover the most important aspects once more:
Killer headline. Countless online users are willing to share a new story or article based only on the message in its title. Don't underestimate that.
Great images. Without the appropriate image fitting your message, you will surely lose a lot of attention online. Visual content is a strong tool in getting more readers and sharing.
Structure & formatting. User experience does not only depend on the pretty design of your website. It can also be delivered in the proper structuring of the text, letting it breathe and make it easier for online readers to go over it quicker. This is key due to the decreasing attention span of users and the speed with which they scroll through so much content.
Web design & responsiveness. Social media users are sick of getting sucked into visiting fake websites and pages that simply waste their time. Give them a reason to stay by preparing a responsive design that will fit any device and make them feel like they are in a credible place.
2. Curation
Your audience is your biggest asset and you should give them any possible reason to stay and continue following you. This means not just sharing your own content, but share everything else that they might find useful and keep relying on you for useful information related to your subject or type of business.
Social media platforms are a place where people go to unwind, which is why you have to share something that your users will enjoy and trigger a positive emotion that will encourage sharing.
Viral posts are always the ones striking the highest arousal of any kind of emotion whether it is happiness, compassion, sadness or nostalgia. MarketingTechBlog made some further discoveries by researching SMBs, determining that 3 out of 5 have been successful in obtaining new clients through social media channels. B2B marketers usually invest in advertisement for social media to get:
83% increased brand exposure
69% increased web traffic
65% increased market insights
3. Connection
The use of social web gives businesses the advantage to prove that they are real and caring, driven by basic human qualities.
Browsing through Facebook and Twitter may seem like "work" if it is not used to actually connect with an audience that helps your business grow and move in a forward direction, it basically means that you are wasting your time looking at funny cats and memes. Actually, we can't blame you for that, they are pretty addictive!
However, the increase in social activity means that it has to decrease in the real world where situations of real human interaction are gradually diminishing. This ultimately means that time spent on the Internet expands substantially, which becomes a brick strapped to the ankle of anyone surfing through the endless ocean of online content.
What can we do to save our time and mental health?
You have to start your social media marketing campaign with one initial rule – it should always be a secondary activity and source of traffic. Most of the time, it is not actually worth it to spend so many hours and finances on establishing a remarkably strong presence around social platforms.
In order to avoid sinking most of your time there, you should actually focus more on developing your email list, primary website, and your entire business. Not the other way around.
The simplest thing to do is set strict boundaries for the time spent on building your social media presence. Do not sacrifice the productive part of your day for "one more refresh" – it's the surest way to going overboard and losing control.
Social media is a big part of our work as a marketing agency, and we are constantly improving the methods we use to increase our clients' online presence. Check out the innovations in online advertising that 411Locals has to offer!