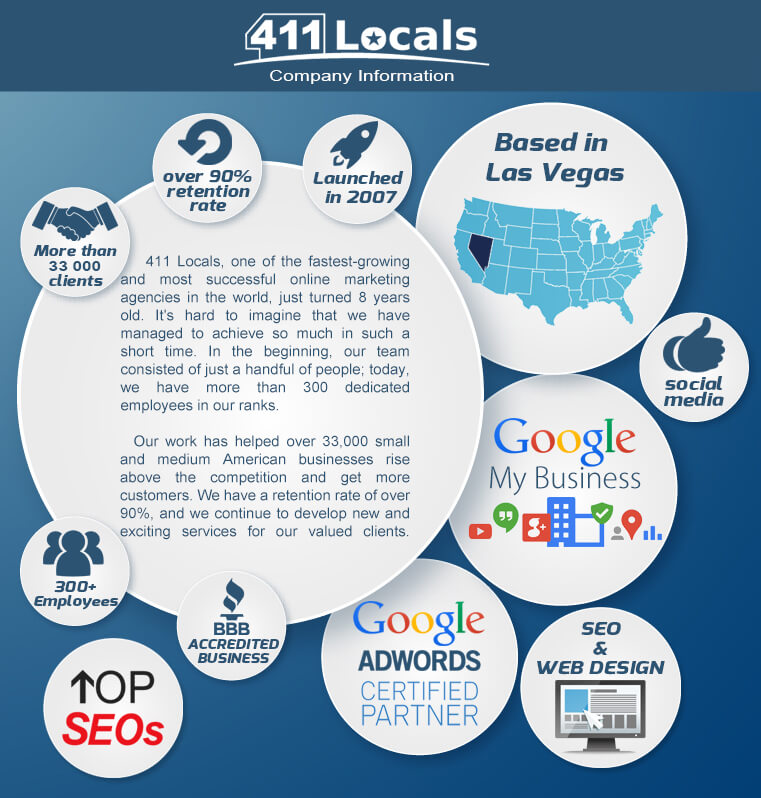 Who is 411 Locals?
411 Locals, one of the fastest-growing and most successful online marketing agencies in the world, just turned 8 years old. It's hard to imagine that we have managed to achieve so much in such a short time. In the beginning, our team consisted of just a handful of people; today, we have more than 300 dedicated employees in our ranks. Our work has helped over 33,000 small and medium American businesses rise above the competition and get more customers. We have a retention rate of over 90%, and we continue to develop new and exciting services for our valued clients. And we are just getting started.
The Core
Our company started with one simple goal – to help businesses appear on the first page of Google, get more customers, and expand. We did that by creating and optimizing Google Business Listings for our customers. This way, our clients always appeared in the top results in local searches for their business type. It went really well – we had the knowledge and skills to really make our clientele stand out, get more calls, and more business.
The Next Level
As 411 Locals started to grow and expand, we realized that we had the means to do even more for our customers in terms of online presence and optimization. Nowadays, it is really important for a company to have a good website – that is why we started creating optimized, search-engine friendly websites for our clients. Our team grew exponentially and was joined by skilled web designers and optimizers.
We took every customer complaint, suggestion, and remark seriously in order to improve our services and offer you more. Online optimization is usually a slow process, and one must wait a few months to experience the full benefits of it – and we made sure our customers understood that. We found out for ourselves that effective communication with the customers is vital, so we hired trained and experienced customer service personnel to take care of that.
Our optimized Google Listings and websites shaped up as the most affordable, yet effective means of online advertising in the USA. But we didn't stop there.
The Future
Today, we find we have come a long way from where we began 8 years ago. 411 Locals is now a certified Google partner, offering professional Google AdWords services along with our listings and websites. We even have ventured into the fields of marketing videos, mobile websites, and social media. 411 Locals can offer you a comprehensive online presence package, guaranteed to give you and your business exactly what you need to succeed.
Our team of young, creative, and motivated people is always willing to evolve, expand, and explore new grounds. We have great plans for the future – many new things to try, and many new services to offer. We aim high, and we have confidence that we will get there!
Join the 411 Locals family, and you can become a part of our story. Either as a satisfied customer or as a dedicated employee, you will most certainly benefit from our professionalism, integrity, and hard work. So, to summarize – why choose us over the rest?
Because we are the future of online marketing!